Note: The "Illustrated Life" Book giveaway is still open, and today is the last day to enter the drawing.
Click here to check it out!
And don't forget to leave a comment, okay? The deadline is midnight tonight, and I will be drawing a winner tomorrow (Monday, September 2).
Twenty Nine Faces in September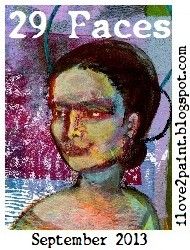 I've decided to play along with the 29 Faces in September challenge, which is being hosted by Alaya Art. I've got a tiny book to work in, and most of my faces will go in there (although I may do a few big ones in my art journal too - I'm keeping my options open).
Here's my tiny, 4" x 5" journal...
and here's my face #1...
I made a huge blunder with the ink pen on her nose; so I just cut out a piece of paper from the back of the book, pasted it right on top and kept going. This is just about practice, and that's what makes it fun for me! I sketched her with a pitt pen and colored her with watercolor pencils.
If you want to check out the 29 faces challenge, click here for more info!
Thanks so much for visiting, and for your comments! I love hearing from you!